The authors of this book have taken a rare opportunity to bring together the many factors crucial to an adequate understanding of architectural inscriptions, and they have done so in relation to those in an important but sadly under-published historic mosque. The grand mosque of Shoushtar contains many historic inscriptions installed over time for documentary purposes, but the four monumental Kufic texts are integral parts of its design and meaning. They are here studied calligraphically, hermeneutically and phenomenologically, and in relation to the structure of the mosque itself, the whole being set against an outline of Shoushtar's history and the features of the mosque.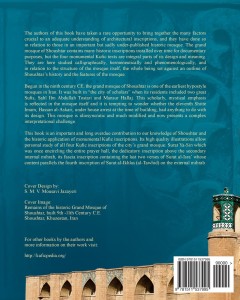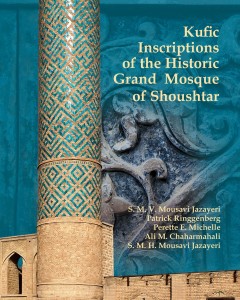 Begun in the ninth century ce, the grand mosque of Shoushtar is one of the earliest hypostyle mosques in Iran. It was built in "the city of scholars" when its residents included two great Sufis, Sahl Ibn Abdullah Tostari and Mansur Hallaj. This scholarly, mystical emphasis is reflected in the mosque itself and it is tempting to wonder whether the eleventhImam, Hassan Askari, under house arrest at the time of building, had anything to do with its design.
The mosque is idiosyncratic and much modified and now presents a complex interpretational challenge. A unique zigzag wall takes three bites out of the prayer hall but creates an important recitational opportunity. The original internal mihrab, aligned with the later exterior mihrab at each end of what should have been the central aisle was replaced with a bigger one during the twelfth century ce. Set one bay to the east, this bigger mihrab cut through the major Kufic frieze containing the Surat Ya-Sin, causing the loss of ayat 13 and 14. Significant disasters and restorations to the structure and decoration of the entire mosque have lost much of the remaining frieze, which (according to a nineteenth-century postcard) once encircled the entire prayer hall. But two long sections survive on the Qibla wall. They have recently been brought into good condition and have been photographed and reproduced here in detail.
Order this book from Amazon.com