The Moragha'a of Art Garden was exhibited in a meeting of calligraphers and painters in The Script and Calligraphy Museum of Mir Emad, Sa'ad Abad Palace
In this ceremony, the masters: Mostafa Akhavan, Seyed Mohamad Vahid Mousavi Jazayeri,  Abdolah Thani (director of Islamic Era Museum, National Museum of Iran) and Patrick Ringenberg presented their ideas about the art of Moragha'a (album, scrapbook) in Iran, the art of burning on wood, and the association between spirituality and calligraphy. Kobra Dehghan Nejad spoke about her idea to collect this valuable art work. Vahid spoke about the evolution of Kufic script in manuscripts and on coins.
This Moragha'a was compiled from manuscripts and paintings by contemporary artisans, such as Seyed M Vahid Mousavi Jazayeri, who provided the Kufic inscription for this collection. All parts of this Moragha were prepared in a traditional way (such as the traditional leather cover). This art collection was brought together over three years.
The idea was to revive the art of Moragha'a.
Miss Maryam Fadaie, Director of Script and Calligraphy Museum of Mir Emad, Sa'ad Abad Palace, mentioned that that two art forms had been used for the first time in a Moragha'a. These are Eastern Kufic and the art of wood-burning. She also mentioned that different styles of calligraphy have also been brought together in this Moragha'a of contemporary artists.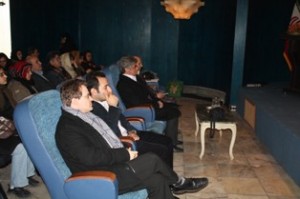 Altogether, eighteen artisans were honoured for their participation in the gathering of this collection.