By: SM Vahid M Jazayeri Kufic Calligrapher
& Perette Michelli | Art and Architectural Historian
Place | ING Creativity, Dubai
Dates | 15 Oct 2016
Time | 12:30 – 18:30 (6 hours)
Level | Beginner | No previous knowledge of Arabic lettering needed
Description | Join arabic calligraphy master Vahid M. Jazayeri and learn how to create logotypes based on traditional Kufic script. Attendees will get acquainted with different ways of writing in Kufic Calligraphy and learn how to write free-hand to create a logo.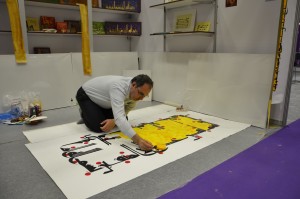 Key Takeaways |
• Learn the basics of Kufic Calligraphy
• Get acquainted with the tools of Calligraphic Writing
• Get to know different styles of writing in Kufic Calligraphy
• Create freehand Kufic Calligraphy Logos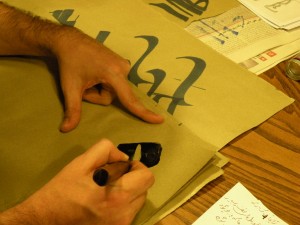 Vahid M. Jazayeri Biography | Vahid M. Jazayeri is an established calligrapher, researcher, graphic designer, and expert in early Arabic Kufic script. He holds a Bachelor of Art in Graphics and has been awarded the Excellence in Art Certificate by the ministry of culture, the equivalent of an honorary Ph.D.
Vahid began his study on Thuluth script in 1982 and his study on Naskh scripts in 1991. After nearly ten years of training he began teaching and within a year he was developing two complementary fields: historical calligraphy in a range of media (ceramics, coins, plaster and stone, manuscripts) and contemporary type design.
Perette Michelli Biography | Dr. Michelli gained her Ph.D. in 1989 and is a multi-disciplinary historian of medieval and later art. Her understanding of the medieval deployment of classical aesthetics generated a special interest in the use of visually distinctive script styles, textual traditions that perpetuate mistakes and scribal errors, and inscriptions that seem to lack purpose or information, or that seem to include errors, flaws, or meaningless components. She has been researching medieval Islamic art and architecture for eight years and has a particular interest in "benedictory" inscriptions on medieval Islamic objects.
Dr. Michelli is an independent scholar with extensive teaching experience in high schools, art schools, colleges and universities in England and in the American Midwest.
[embedyt] http://www.youtube.com/watch?v=8C-X4z0r0Kw[/embedyt]
Earlybird Discounted Ticket (available for limited time) | 163 USD (599 AED)
Regular Workshop Ticket  | 210 USD
Workshop ticket at the Door | 240 USD (880 AED)
 Please click
here
to purchase your ticket.
For more info
Follow us in Instagram  /   Facebook