Seyed Mohammad Vahid Mousavi Jazayeri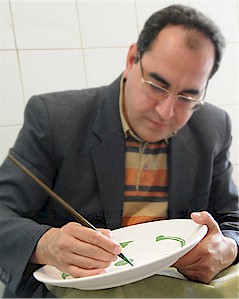 A master calligrapher, type designer and graphic designer, Seyed Mohammad Vahid Mousavi Jazayeri has taken a particular personal interest in the Kufic script and devoted years to independent research, visiting archaeological locations, historic buildings and cemeteries, mosques, libraries and museums to study the script through direct contact. He has developed a systematic research methodology and published his findings in several books. His professional interest in script and calligraphy stimulated his discovery of the historic method for cutting the Kufic pen, which has had a direct impact on his own work, as seen in a number of well-received exhibitions and workshops.
See his Curriculum Vitae – of Mousavi Jazayeri SMV (pdf)
Dr. Patrick Ringgenberg
Dr. Ringgenberg is a specialist in Islamic and Western thought and culture; the "translation" of Islamic thought in western philosophy; the cultural negotiation of tradition and modernity; and the history and iconography of cities and shrines. In 2012, his publication on symbolism in Islamic art was awarded both the World Prize for the Book of the Year of Iran and the Farabi International Award.
See his Curriculum Vitae – Patrick Ringgenberg, English, February 2013
or Curriculum Vitae – Patrick Ringgenberg, Française, February 2013
Patrick's weblog
Some collected publications ~ Les Théories de l'Art ~ L'univers symbolique ~ Une introduction au Shâhnâmeh
Seyed Mohammad Hosein Mousavi Jazayeri
Seyed Mohammad Hosein Mousavi Jazayeri became passionate about Kufic script in 2001, when he was selected as editor of the book entitled, Kufic Encyclopedia (published in 2004). He has been an avid researcher in the subject area and has continued to share his knowledge and culture with the world. He believes that Kufic script can be used as a bridge of friendship between nations, races and countries by unlocking its secrets and revealing its mysteries.
See his Curriculum Vitae – of Mousavi Jazayeri SMH (pdf)
Perette Elizabeth Michelli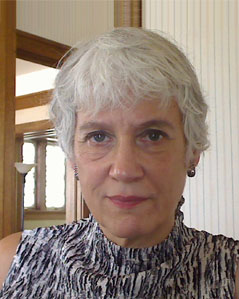 Dr. Michelli is a multi-disciplinary historian of medieval and later art, with a particular focus on the treatment and function of inscriptions. Her understanding of the medieval deployment of classical aesthetics generated a special interest in the use of visually distinctive script styles of greater or lesser legibility, textual traditions that perpetuate mistakes and scribal errors, and inscriptions that seem to lack purpose or information, or do not apparently make sense, or that seem to include errors, flaws, or meaningless components. Her current focus of interest concerns the "benedictory" inscriptions on medieval Islamic objects.
See her Curriculum Vitae – Perette Michelli
Saad D. Abulhab
Saad Abulhab is an Arabic type designer, librarian, IT professional and independent scholar with over 25 years of service at the City University of New York, New York University, and the New York public library. He has been awarded several patents and research grants and authored several books and articles in the fields of Arabic language and script history, typography, and computing.
See his Curriculum Vitae – Saad Abulhab
Valerie Gonzalez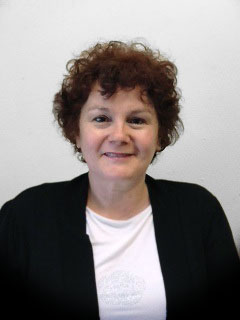 Dr. Gonzalez is a well-published historian of Islamic art and visual culture with a focus on aesthetics, which she examines in relation to calligraphy (in manuscript and on ceramics), painting, enamelwork, and architecture. Her Muqarnas essay on the Comares Hall in the Alhambra and James Turrell's Space that Sees was awarded the Eisenstein Prize by the NCIS in 2004.
See her Curriculum Vitae – Valerie Gonzalez
Christine Liboon
Christine Liboon works in education and research. Her interest in Kufic script and calligraphy was sparked by Seyed M H M Jazayeri while working as an educator Spain. On a field trip to the Archeological Museum of Cordova with her bachillerato students, she noticed script similar to the Kufic style on several artifacts preserved during the Arabic occupation in the South of Spain. Realizing Kufic calligraphy as a field not widely researched during this specific time period and region, she contacted Seyed, recognizing this discovery as a valuable gateway to explore new opportunities for investigation. Whether through script or petroglyphs, Christine believes present day research of ancient languages, such as Kufic calligraphy and Rongo-Rongo, is not only key to understanding elements in a language but an essential component of unlocking secrets of a culture's hidden and forgotten past.
See her Curriculum Vitae – Christine Liboon
Abdulaziz Al-Awadhi
Abdulaziz spent a short time in Qatar to attend a design convention. In his free time he visited the Islamic Art Museum, where some old Arabic scripts "Old Kufic" attracted him. Little he knew his interests in it.
After taking a couple of photos for an old Quran, he tried to read it, but found some trouble reading it. The script took his attention through its stiffness, randomness, and the dispersed letters. He found the script very ravishing through the tight voids between the letters, and the exaggerated length in some letters; like "Kaf, Dal, and Saad". He also found the beauty in the basic handcrafts in writing this script.
See his Curriculum Vitae – Abdulaziz Al-Awadhi
Dr. Mamoun Sakkal
After a career as artist and architect, Dr. Sakkal focused his research and professional work on Arabic calligraphy and typography since 1994. His interest in Kufic calligraphy started more than 20 years earlier when he used it in several graphic design projects in 1971, and incorporated Square Kufic in the façade of a building project in 1977. He continued to study and use Kufic calligraphy in his work over the decades. This culminated in the comprehensive study titled "Square Kufic Calligraphy in Modern Art, Transmission and Transformation" for which he received his Ph.D. degree from the University of Washington in 2010. His latest Arabic font collaboration project is a decorative Kufi style typeface named Bustan.
See his Curriculum Vitae – Mamoun Sakkal
See his website
Ali Rouhfar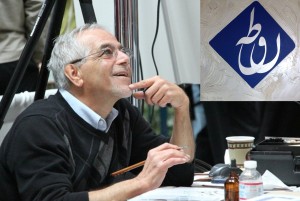 Persian calligraphy has 14 centuries history of evolution. I have studied the first 10 centuries of this history by focusing on NASTALIQ style. A manuscript KUFI came to Persian Empire and took the journey of evaluation from there as the back bone of all Islamic scripts. Towards my research regarding power of letters in NASTALIQ I found them a mystical resource for life and a connective element for transmitting human to the source of light, KUFI letters attracted me as a script that has many potential but due to a fast paste changes in scripts in the first 3 centuries of Islam, both potential of creativity of beautiful writing and mystical messages of this script has left behind and attentions directed to other scripts. I would like to put my next research chapter to discover more about KUFI and find out more values of this script. Meeting with Master Seyed Mohammad Jazayeri was a great opportunity for a fruitful future research hope and confidence feeling in a constructive conversation.
See his CV